Lily
I am a native of San Fernando, Pampanga in Central Luzon, Philippines. I grew up in the small barrio of Teopaco next door to calesa drivers with their handsome horses and their backyard stables. I shared with my five siblings duties feeding pigs and raising chickens and collecting horse manure for fertilizing our small family garden. Although I grew up colonized (tutored by American missionaries and Peace Corps Volunteers and Filipino teachers who taught strictly in English), I retain memories of sitting at my Apu Sinang's feet listening to her tell stories as I strung fragrant sampaguita leis or as I watched with fascination as she prepared her betel nut chew, breaking open the nut and sprinkling shell lime on the meat, then rolling the concoction in betel pepper leaf before putting the bite-size pouch into her mouth for chewing. Then there were the home deliveries of fresh milk in unbranded glass bottles that you handed back when the milkman came back around, and the early morning toot-toot announcing the arrival of Apay Tinapay on his bike, the hot pandesal vendor, who magically kept the fresh-baked buns steaming hot in his big newspaper-insulated basket hanging by the side of his bike.
It is these and many more fond memories of my barrio childhood that now serve as a gateway to my indigenous soul. Memories that in my colonized socialization I regarded with disdain, if not shame, as markers of poverty, rural backwardness, and the primitivism of small town existence (our small nipa home then never even having seen the flickering shadows of a modern television set, or our barrio, the benefit of a giant grocery store that would have had milk and bread sold in "proper" industrial packaging). Now I recognize that how I was raised—knowing where life's sustenance comes from and nurtured by an intimate connection to soil, living story, and community—is what our indigenous peoples meant by ginhawa or well-being.
That shift in awareness took a long time to irrupt in my life. As a decolonizing scholar and academic, what for me began as a nationalist commitment in my identity reclamation as a Filipina soon led to a deep questioning of the nationalist project itself. To the extent that the nationalist vision was primarily about civilizational progress, measured in terms of technological advancement and commodity consumption, my barrio life could not but remain anomalous—curious at best, but in the end, a backwardness that must be left behind in favor of a more modern, preferred cosmopolitan subjectivity. Within this vision, tribal communities that have survived into the 21st century, insistent on their difference and unassimilable alterity, became nothing more than relics of the past, useful only as objects for tourism, and for invoking a romanticist nostalgia of a unique cultural identity as part of national pride—never as bearers of a long memory that might teach us once more how to live well (and beautifully!) on the planet.
Coming to the U.S. in 1995 for graduate study made me understand more clearly the end-logic of the West's project of civilization—the poverty of spirit that accompanies so much affluence and commodity excess, the lack of community from individualism gone awry, the neurosis of an unfounded sense of entitlement and supremacy. I asked, is this what my country is aspiring for? This sad, sad, empty way of life?
So now I sit on the front row of history's unfolding, my commissioned task that of bearing witness to the unraveling of Empire and its failed project of conquest and supremacy. Aided by indigenous memory and the still living witness of our land peoples, the Aitas, the Tedurays, the Bajaos, the Bontoks, the Manobos, the Talaandigs, the Tausugs, and many others, I long for the birthing of new visions and desires, rooted no longer in linear narratives of progress and material development but in a healing return to the womb of Earth Mother and all her beings.
----
S. Lily Mendoza is a professor, researcher, and scholar who has received numerous awards for her work in critical intercultural communication studies. She serves as the current Chair of the International and Intercultural Communication Division at at Oakland University and sits on the editorial board of the Journal of International and Intercultural Communication. Her research and teaching interests include critical intercultural communication, questions of identity and subjectivity, cultural politics in national, post- and trans- national contexts, discourses of indigenization, race, and ethnicity, culture and ecology, and bridge-building across traditions of scholarship.
Leny
What is a Filipina Babaylan? According to Alice Magos in The Enduring Ma-Aram Tradition, the Babaylan in Filipino indigenous tradition is a person who is gifted to heal the spirit and the body; the one who serves the community through her role as a folk therapist, wisdom-keeper and philosopher; the one who provides stability to the community's social structure; the one who can access the spirit realms and other states of consciousness and traffic easily in and out of these worlds; the one who has was knowledge of healing therapies.
As a Filipina scholar and a postcolonial subject, I have been influenced by academic discourses. Discourses on indigenous spirituality, eco-theology, radical feminism, postcolonial trauma and melancholia, postmodernism- are all cognitive frameworks that offer helpful analytical tools. But what I'm finding out is that my body has its own wisdom about where it wants to go and in what language it wants to speak. If the psychic split of modern subjectivity is to be healed and made whole, then I must return to the place of my beginnings: the body. This body has a History that it needs to unpack and reconstruct. If I want to return to the place of beginnings, I must re-trace my steps and work my way back to the wisdom of my body. This Filipina body.
The stories I gather reveal our own inner dialogues we have all held within and with our bodies (for perhaps millennia) as Filipina women conditioned under colonialism, capitalism, and patriarchy - the key markers of modernity. We realized that for the first time, we were taking the risk of becoming vulnerable, telling each other our secrets so that we may enter into deeper communion with one another.
As Filipinas we are not prone to dichotomies and compartments. The walls we build are always see-through and slender to allow for the moments of possible encounter between us and those who consider us their "other". For us, there is no Other. This is the fragility of our condition and the Babaylan's dilemma - how do we resist the dichotomies imposed by a modern consciousness? How should we deal with the consequences of colonial constructions? Our History is fraught with unfinished wars where we must take our place in the frontlines with all the gifts that the Babaylan offers: of healing, visioning, warriorship, teaching, priestessing.
To uncover the indigenous in our souls is the work of decolonization. But even as we decolonize, it is not enough; it is merely a beginning. The work must continue to deepen until the body, mind, and soul become one.
This way of seeing and being is not easy. I feel conflicted many times. I am aware of my inevitable complicity with the empire because I live in its belly. But at least I could choose alternative positions that I can defend and live with.
As you read about the reflections and experiences of women from the Philippines, may they resonate with your own stories. May their stories encourage you to find the stories in your own life that intimates wholeness and Beauty that is our heritage from our Babaylan. May you be blessed by these stories. May you desire to discover the Babaylan in you. May your longing for your Filipino indigenous soul be filled.
----
Leny Mendoza Strobel is Professor of American Multicultural Studies at Sonoma State University. She is the author and editor of several books about primary/land-based babaylans in the Philippines; Kapwa psychology and babaylan practice; babaylan-inspired practices by Filipinos in the diaspora; as well as personal narratives on decolonization as a spiritual path.
Perla
I was raised by my paternal grandmother in a province in the Philippines, away from my mother, father (who was absent), and ten siblings. After graduating valedictorian in high school, my desire to improve and educate myself grew stronger, and I went to the big city (Manila) on my own, going to school through a scholarship. I did not get any financial or other support from family so I worked hard in order to pay my rent and food, motivated by my desire to succeed. I began a career in the retail industry, eventually working as a buyer for May Company.
I always thought I would marry a hard-working, family man. Instead, I met and fell in love with a long-haired trumpet player who was in a Filipino funk band. We had two children, but he had a gambling problem that forced me to end our marriage and go abroad to find work so that we would not lose our house. I had to leave my five-year-old son and baby daughter with my three sisters and mom, not knowing when I would see them again.
When I came to the U.S., I didn't have papers. I stayed with my friend from home who had moved to San Diego. She introduced me to a man who hired me under the table to work as the property manager for some buildings that he owned. I remember being very scared during this time, because even though I worked hard and did my job well, I might get caught and sent back home. It was a scary time but I had to send money back for my kids. Unfortunately, I couldn't visit them, and I wouldn't see them again for eight years, after I re-married a U.S. citizen and was able to petition for them to come over.
Throughout all of the heartbreak and difficult times, I always stood on my own two feet, working hard even if I felt like giving up. I pride myself for my faith in God, and for being strong-willed and resourceful, which are values that I think many Filipinas have.
----
Perla Selner is a devoted mom to her two children (she is the photographer's mother), her daughter-in-law, and her beloved dog, Pumpkin. Her new granddaughter is the light of her life. She works as a property manager and enjoys reading and bowling in her spare time. She is looking forward to visiting the Philippines for the first time in 26 years in August 2016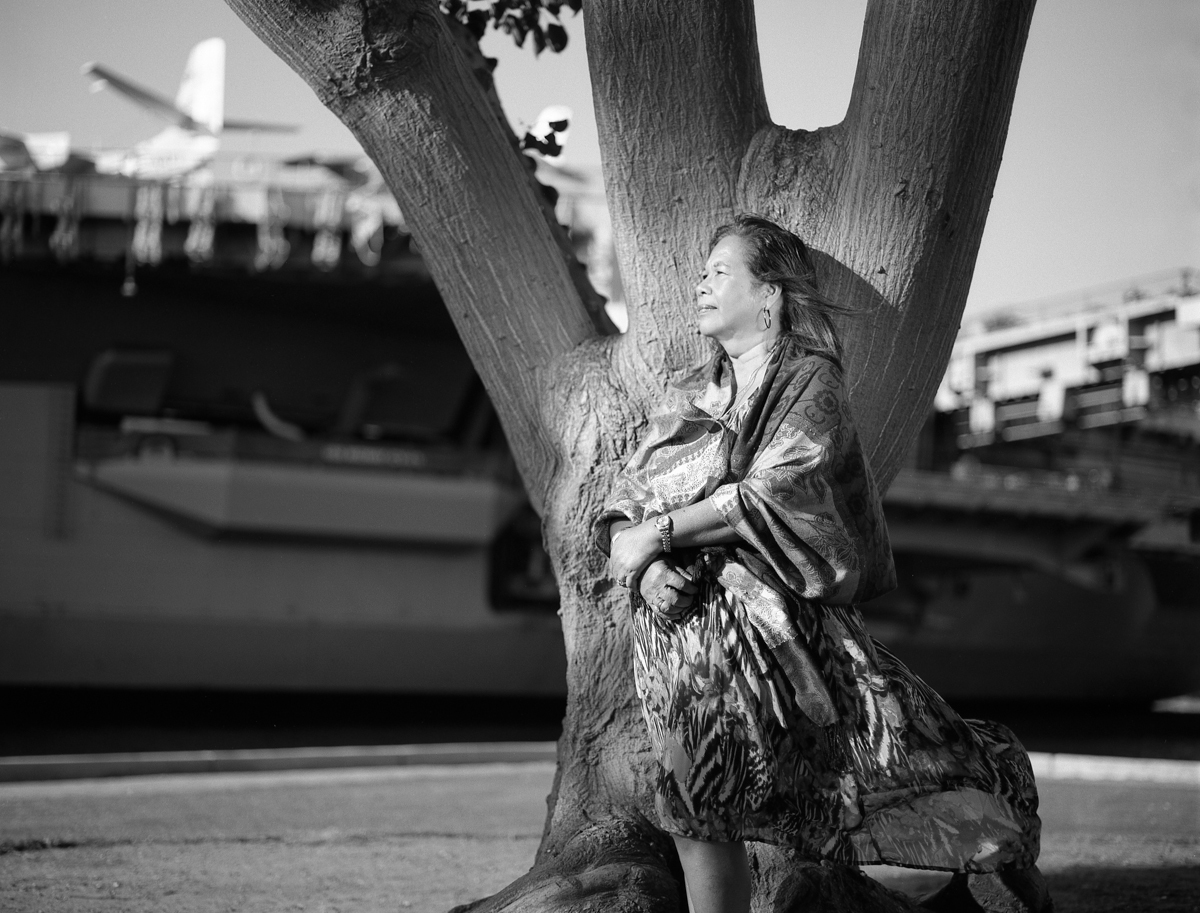 Lina
I immigrated to the United States 44 years ago. My husband was drafted by the United States Military during the Vietnam War. I left the Philippines to be with him. He served in the United States Navy for 20 years. Being a military wife was not easy. Six months out of every year, he was at sea, and I was left alone to take care for our two kids.
I realized during the first months of my living here that the culture is different from what I grew up with. Life here is a rat race and most housewives don't just stay home to take care of their families, they also need to work out of the house to survive financially. I found myself in that same situation. I needed a job. I was a high school teacher in the Philippines but I could not teach here without being certified. I learned a new trade in the field of computer technology. I started as a data entry clerk. Filipinos are known for their dedication to hard work. This dedication influenced my whole career. I worked hard for thirty years and retired as a systems security analyst.
Where divorce is not allowed in the Philippines, it is a common way of life here. After 20 years of marriage, my husband left me for another woman, which led to a divorce. I was left alone to take care of two kids and needed a second job to survive. I worked two jobs for a few years. I met another man to whom I am still married after 24 years. Oddly enough, he was also serving in the United States Navy, so I endured a few more years of being a military wife.
Having extended families is also a common occurrence here in the U.S. I have my daughter and son from my first marriage, and a stepson. My first husband had married a woman with two children, who me and my children love like they are our own family. We all spend many holidays and time together.
One of the values most Filipinos adhere to is love and sacrifice for their families. It is not uncommon to see three or four generations of Filipino families living in one household in order to support one another. I am now a grandmother of eight beautiful grandchildren, aged six months to 17 years, many of whom currently live with me.
I have lived more than half of my life here in the United States. I will never know what my life would have been if I did not immigrate to this country. I know that I have lived a life full of adventure here and have loved it as my own. My life has come full circle with children and grandchildren to spend my golden years with.
----
Lina Padua is a loving mother, grandmother, and wife who is enjoying retirement travelling all over the world while keeping her home base in San Marcos, CA.
Jenny
I am one of the millions of overseas Filipina workers who have helped provide a better life for their loved ones back home. It is a badge, a medal of honor, an act of selfless love.
My parents had influenced me to go outside of the country. "There's a better life out there", it's what they always told me. My father was an overseas worker in the Middle East, and I was always curious as to what it was like to work abroad.
Filipina women have evolved so much that they do not just stay home, like back in the day. They also now help provide for their families by working abroad in order to put food on the table and send their children to school. They work and they nurture.
I've gone to other countries to work, but the United States is a place I consider "home away from home". This place has given me a loving husband and a sweet daughter, a family, a HOME.
Being a migrant Filipina gives you an opportunity to be more patient and resilient. You discover strengths that you never realized you have. The biggest part of our culture is the ability to adapt, a quality that blends us in any culture or place we go to. We are everywhere!
I will always bring "home" with me by telling my daughter all about the Philippines, nurture her the way a Filipina mom would nurture her daughter, and will connect her to my roots so that she can have something valuable to pass on.
----
Jenny Miranda is a loving wife and mother who lives and works in San Diego, CA (she is the photographer's sister-in-law). Prior to living in the U.S., Jenny was a migrant healthcare worker, working for years at a time in Saudi Arabia and Hong Kong, to help support her family in the Philippines.
Flo
I was born and raised in the Philippines alongside with my 4 sisters until the age of 12. My father who worked for the US government was granted a special immigration that was able to move all of us to the United States. So in 1997 we, as a family made the journey and moved to Hayward California and remained there for two years. My father then sought for a better job and found one in San Diego where I currently live until this day.
Being a Filipina has shown me the importance of family and togetherness. Being a part of a large family taught me how to form better relationships with friends and able to apply that same principles with the people that I work with.
The values of being a Filipina has help me strengthen my entrepreneurship and determination. As a kid in the Philippines I knew that work doesn't just fall on ones lap, usually it is something that you had to create. A person has to have creativity and willingness in order to provide a decent life for the family. Moving to the states I've always carried and exercised those values. At the age of 26 i opened Pikku Salon, a humble hair salon in the neighborhood of Golden Hill. I received an overwhelming support from my family and I'm truly grateful and happy to be given that chance to be my own boss. Chances like these are hard to come by, especially if we had remained where we were in the Philippines but I would have to add that having given the opportunity to have lived both lives on opposite spectrum makes me appreciate my fate even more.
----
Florence Pacho is the owner and principal hairstylist of Pikku Salon (pikkusalon.com). She also runs a fine jewelry and a floral design business, all of which allow her to express herself creatively while giving something beautiful back to her community. She and her husband, Ian, live and make beautiful paintings and photographs in San Diego, CA.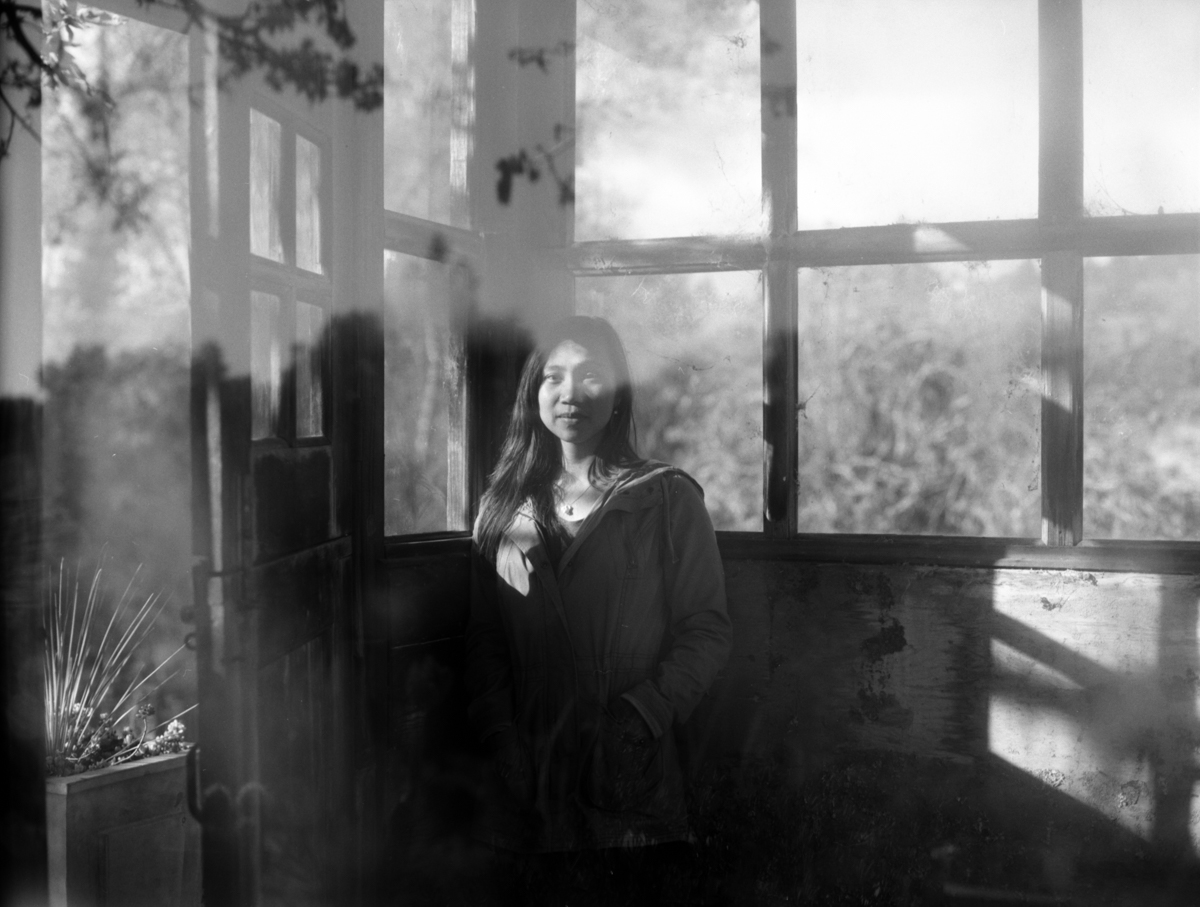 Jimi
Where I am from, there were rows of fruit trees I had taken for granted, like atis and caimito. I chased dragonflies and tied their tails together. I climbed trees. I played with candles during rolling neighborhood brownouts. I ate frog legs after heavy rains. In my mother's hometown, a fishing village in Pangasinan, I lived it up as a child. Yes, money was tight and stretching the dollar remittances my father sent to make ends meet was not fun for all of the adults around me, but my mother, grandmother, aunts, and uncles helped feed and clothe me just fine. I still believe that one of the most delicious meals I have ever eaten was a simple plate of hot, white rice with bagoong, which is fermented fish and salt, topped with shreds of fresh coconut. And that one of the best games ever is playing hide-and-seek under the moonlight. I cherish these childhood memories because I want to remember that I can be happy living simply.
Living simply, I learned, is a serious challenge in the U.S. I arrived in March of 1993, too late to be enrolled in fifth grade that year. When I finally started school that fall, I quickly discovered that my shoes, clothes, and backpack were not expensive enough to be "cool"—and I bought into this view. In high school, I pasted onto my dream journal a picture of a Lexus GS400 I cut out from a magazine! But I changed since college. Mentors, friends, Ethnic Studies, Global Urban Trek, liberation theology, and my artist husband (who is a fellow avid climber!) helped shape me. Now, over half of my clothes are from Goodwill and generous friends. When I tell the students in my Sociology courses that my first and second cars are hand-me-downs, they are surprised. One asked me, "Professor, don't you want that Lexus GS400 anymore?" I replied that I did associate status with success, but now success to me means that wherever I may be heading in life, I always remember where I am from.
----
Jimiliz M. Valiente-Neighbours is a Sociology professor at CSU San Marcos and University of San Diego, and a Ph.D. candidate completing her dissertation on Filipino World War II veterans at the University of California, Santa Cruz. She was born and raised in the Philippines until she was ten years old when she relocated to Long Beach, California, where her immigrant parents Jimmy and Lisa Valiente still reside. She has two younger brothers, Francis John and Chris Ian, both of whom are taller than her. Jimiliz lives with her husband, Robert Valiente-Neighbours in San Diego, CA.